Zone 6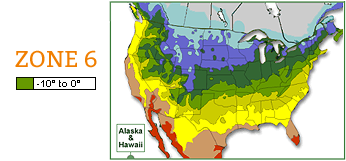 Zone 6 Information
Zone 6 circles through the U.S. heartland, then wraps up around the West Coast of Canada into the bottom edge of Alaska. The Eastern U.S. gets muggy while the West gets parched and dry in the summer. The plant assortment for this zone is tremendous, but consider drought-tolerant plants in some parts of Arizona and New Mexico. Keep them grouped together in your garden for water efficiency.
Zone 6 was divided in 1990 into two areas by the National Arboretum to provide gardeners with even more environmental detail: 6a and 6b.
6a - Minimum temperature of -10 to -5 F (-20.6 to -23.3 C) Places like St. Louis, Missouri and Lebanon, Pennsylvania.
6b - Minimum temperature of -5 to 0 F (-17.8 to -20.5 C) Places like McMinnville, Tennessee and Branson, Missouri.
Here's a partial list of plants that thrive in Zone 6
Abelia

(Abelia x grandiflora)

Japanese Anemone

(Anemone x "Prince Heinrich")

Baby's Breath

(Gypsophila paniculata)

Candytuft

(Iberis sempervirens)

Florist's Chrysanthemum

(Chrysanthemum x morifolium)

Martha Washington Geranium

(Pelargonium peltatum)