Zone 2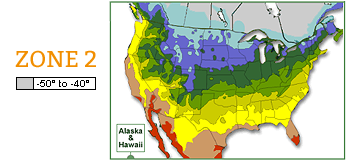 Zone 2 Information
The Zone 2 area covers most of Canada, most notably the Northern and Eastern sections. Parts of Alaska and the uppermost regions of many mountains in the West are also part of this brisk zone. Gardeners can grow a number of plants in this climate despite possible frosts on any night of the year. There are a few bulbs that do well in these areas, too.
Zone 2 was divided in 1990 into two areas by the National Arboretum to provide gardeners with more environmental detail: 2a and 2b.
2a - Minimum temperature of -50 to -45 F (-42.8 to -45.5 C). Places like Prudhoe Bay, Alaska and Flin Flon, Manitoba, Canada.
2b - Minimum temperature of -45 to -40 F (-40.0 to -42.7 C). Places like Unalakleet, Alaska and Pinecreek, Minnesota.
Here's a partial list of plants that thrive in Zone 2
White Tree Peony
(Paeonia suffruticosa)
Sweet Alyssum
(Lobularia maritima)
Maltese Cross
(Lychnis chalcedonica)
Bell Pepper
(Capsicum annuum "Golden Summer")
Paper birch
(Betula papyrifera)
Redosier Stolinifera Dogwood
(Cornus stolinifera)
Blanket Flower
(Gaillardia x grandiflora 'The Sun')